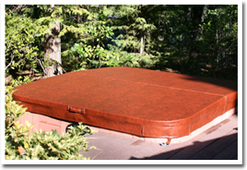 Need a spa cover? All of our covers are custom made to fit your spa perfectly. If you live in Modesto we will come to your house free of charge to measure your old cover and let you choose from an array of colors. If you live outside of Modesto we charge $1 a mile to come to your house and measure your cover for you. For local customers we will deliver and remove your old cover free of charge.

Our cover prices start at the following prices:
Standard Cover (1lb foam) - $325
Deluxe Cover (2lb foam) - $365

Again, these prices include free local delivery and removal. They also come with a 4 year warranty. Some covers may incur additional charges if they are overly large, require a special cover lifter, or more than a fold.